Hi, and welcome to my bio page, where I get to unabashedly talk about myself!
Here you will learn a bit more about my science and writing background, my credentials, and just how much of a science nerd I am. Let's just say that my friends roll their eyes when I get started on a science topic. It can be anything from chromosomes to biomes—it's all fascinating to me!
Science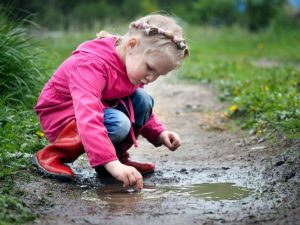 I was the kid who loved to dredge the puddles after a rain looking for earthworms, and dug holes in the yard to see the different "dirt" colors. So it was a no-brainer that I would take nearly all of the science classes offered at my high school and college. I earned my B.S. in Biology with a chemistry minor (I just couldn't bring myself to take P-chem!), then went on to complete my M.S. in Zoology with a concentration in environmental toxicology.
After graduate school I spent five years doing bench research on human health issues at the USEPA and Shriner's Burn Hospital. I then spent 20 years applying my human health knowledge in the environmental services industry where I was one of the few life scientists among a gaggle of engineers and geologists. There I evaluated and quantified the risks to human health from exposure to contaminants, and then collaborated with the engineers as they designed an effective remediation plan to reduce those risks.
Writing
Throughout my career, I found myself being called upon with increasing frequency to write content needed for our projects, clients, and marketing materials. The writing was an enjoyable addition to my project work, and it also planted a seed in my mind: Could I somehow combine my science and writing skills into a business of my own one day? I was also asked to teach client workshops, in-house staff training, professional continuing education classes, and professional licensure preparation classes. After overcoming a bit of stage fright I began to enjoy teaching others.
Teaching
That foray into teaching reminded me that my earliest "When I grow up, I want to be…" statement was "…a teacher!" That was in Mrs. Iler's class in the 3rd grade. It rekindled the desire of my 3rd grade heart, which was formally fulfilled in 2010 when I became an Adjunct Professor of Life Sciences at Ivy Tech Community College of Indiana. I currently teach one or two sections of Advanced Human Physiology to nursing and allied health professions students each semester. I've also taught Intro to Biology, Microbiology, and Anatomy & Physiology in previous years. In 2014, I was honored to receive the Outstanding Adjunct Professor of Life Science award. Mrs. Iler would be so proud!
The Perfect Trifecta
In 2011, the perfect combination of science, writing, and teaching became a reality for me when I founded Professional Writing Solutions, LLC. Now I get to help science-based companies succeed and grow using the power of accurate, clear, effective science communications.
Whether it's through a detailed white paper, an attention-grabbing case study, or a classroom of science students, one of my greatest joys is hearing, "Oh, now I understand!"
~ Chris